6. Accelerator Open Source
How Can Open Source Technologies Accelerate Energy Access For People Off The Grid?
This webinar is the 6. part of WISIONS Webinar Series, which aims to promote sustainable decentralized energy solutions in the global South and shed light onto important topics emerging from the ground.
Open source, open innovation, open collaboration: most of us access information daily based on an 'open' approach. Open source technology – which emerged as a radical new approach to software – benefits from a collaborative and transparent approach. It allows people to adapt and improve technology according to their needs. An open source approach can progress more rapidly thanks to the crowd-based model that encourages experimentation. Open source technology is flexible, and it is sometimes even more reliable.
Webinar 6 – slides Open Source Technologies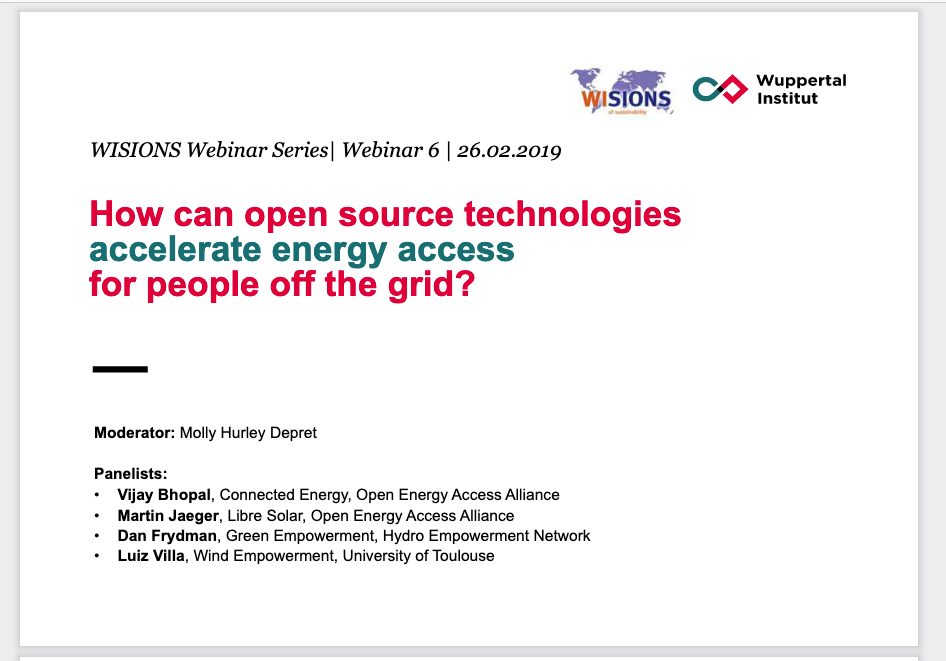 But how can this revolution in "openness" benefit people who need access to energy? In the case of energy access, open source technology allows people to adapt energy-related hardware, software, and data more easily to their local conditions, potentially saving both time, effort, and money in the process. The flexibility offered by open source technology means that people are not wedded to proprietary technology if they need to adapt to new conditions. Despite these benefits, obstacles to open source technology also exist. In this webinar we learned how energy practitioners are applying open source to solve concrete challenges to energy access. We explored the possibilities and the difficulties of using open source technologies for advancing SDG7. Specific Objectives:
To showcase how energy practitioners (and practitioners' networks) are applying the open source model to SDG7
To understand the potential of open source technology for energy access
To identify the difficulties or limitations of deploying open source technology in the energy access space
Speakers:
Dan Frydman

Green Empowerment / Hydro Empowerment Network

Luiz Vila

Wind Empowerment

Vijay Bhopal

Connected Energy / Open Energy Access Alliance

Martin Jäger

Libre Solar / Open Energy Access Alliance
Moderator:
Molly Hurley-Depret
You might also be interested in
28 May 2018
This webinar is the third part of WISIONS Webinar Series, which aims to...
24 March 2022
The first seminar sets the scene of the series by exploring crucial aspects for maximising contributions towards multiple SDGs...